Ashdown Park Hotel & Country Club
Near Forest Row, East Sussex, RH18 5JR
The HBSA will hold its 94th Annual General Meeting at the fabulous Ashdown Park Hotel & Country Club, which is situated in West Sussex, not far from Gatwick Airport. The weekend is a great opportunity to spend time with industry colleagues and friends. It offers unique networking opportunities, an inspiring business speaker, and also a chance to stay in a hotel which is rich in history since its humble beginnings in 1693 (read about the hotel's history here).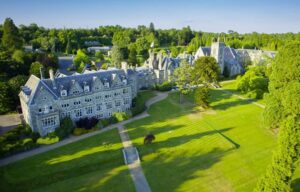 Address: Ashdown Park Hotel & Country Club
Wych Cross, Nr Forest Row
East Sussex
RH18 5JR
Just 30 minutes from the M25, the hotel is set in 186 acres of woodlands which are rich in wildlife. The hotel is beautifully appointed with lakes, trails, rivers, and wild deer roaming through the grounds.
The hotel boasts comfortable lounges and a stylish restaurant area which makes the most of the grand interiors of the original house. The East Wing, a former convent, houses a beautiful chapel with original stained-glass windows. There is a modern spa with a swimming pool, fitness room and treatments available (please remember to book treatments in advance to avoid disappointment).
Weekend Itinerary (possibly subject to change)
Friday 13th May 2022
2.00pm
HBSA Council Meeting. Laura Stafford (HBSA Council members only)
7.00pm
Transfer to Highley Manor (25 minutes) by coach or taxi
8.00pm Dinner at Highley Manor (we have exclusive hire of the venue)
11.30pm Coach transfer back to Ashdown Park
Saturday 14th May 2022
09.30am
HBSA Annual General Meeting. All member companies welcome.
11.00am
Guest speaker (tbc)
12.00pm
Lunch at the hotel restaurant
4.30pm Wine Tasting with BrightOn Wines
7.00pm Drinks reception
8.00pm Dinner
Sunday 15th May 2022
11.00am
Check out
The cost for the weekend will be £519 + VAT for a double occupancy room and £549 + VAT for single occupancy. Please confirm your booking by 31st March.
The hotel has agreed to hold the rates for any extra nights should anyone wish to arrive earlier or depart later. There are also options for upgrading your room should you wish.
On behalf of Paul Rossi (President) and the rest of the HBSA Council we hope you are able to join us. If you have any questions, please feel free to contact me.
To reserve your place(s) please email Mike Patey
info@thehbsa.co.uk or call 0845 519 3258